Relief Checks live updates: COLA 2023, mortgages, Social Security payments, housing market, disability… – AS USA
Inflation relief: live updates
Headlines: Satday, 24 December 2022​​​​​​​
– Congress passes $1.7 trillion spending bill to fund government through September 2023
– Changes made to how Americans can save for retirement
– Date set for Supreme Court to hear two challenges to Biden student loan forgiveness plan
– Inflation increased 0.1 percent in November & 7.1 percent year-over-year boost in prices.
​​​​​​​- Federal Reserve continues to push up rates as inflation begins to slow ​​​​​​​
– Workplace fatalities increased by almost nine percent from 2020 to 2021 
– Thousands of workers will see a raise thanks to increases in the minimum wage that take effect in 2023 
This bill is good for our economy our competitiveness, and our communities – and I will sign it into law as soon as it reaches my desk. This bill will advance cutting-edge research on cancer and other diseases through my ARPA-H initiative. It will put more cops on the beat, invest in community policing, and provide the highest funding level for the Violence Against Women Act in history. It will help us meet our sacred obligation to America's veterans and deliver on the promise of the PACT Act, my bipartisan legislation to expand health care benefits to veterans. It will provide additional assistance to Ukraine, another demonstration of our bipartisan support for Ukraine after President Zelenskyy's visit. It will help communities recovering from devastating natural disasters get back on their feet. And, it'll strengthen worker protections for pregnant women.
Unemployment claims increase as Christmas approaches
With layoffs picking up in the tech sector and rippling across other industries, initial unemployment claims increased by 2,000 for the week ending on 17 December. 
The states that saw the largest bump in claims for the previous week were Connecticut (+471), District of Columbia (+237), Nevada (+157), Kentucky (+153), and Illinois (+138). On the flip side, New York (-7,134), California (-4,830), Georgia (-4,273), Texas (-3,954), and Pennsylvania (-2,669), were the states with the largest drop in claims over the same period. 
The bipartisan omnibus bill has passed – great news for our economy, capping off a year of historic bipartisan progress for the American people. This bill is proof that Republicans and Democrats can come together to deliver for families. I'm ready to sign it into law.
US stock markets go into holiday weekend higher
All three major indexes managed to close up on Friday ahead of the Christmas holiday weekend. However, only the Dow Jones finished the week in the black. Both the S&P 500 and the Nasdaq booked week-on-week losses for a third straight.
Although consumer spending held up through the holiday shopping spree there are signs that it is cooling as inflation does too. Go news, but expectations that the Federal Reserve will continue to raise interest rates and keep them high for longer. 
What to know about "buy now, pay later" to avoid costly mistakes
It might sound like a great deal, easy credit with little to no interest so that you don't have to use a credit or debit card to make your purchase this holiday season. However, the Federal Trade Commission warns that you should lean more about thes lines of credit that might have hidden costs, lack consumer protections or harm your credit score if you can't pay them back in time.
Which US states will raise the minimum wage in 2023?
Come January, workers in two dozen states that get paid the minimum wage will see a raise. Three others and the District of Columbia will follow suit later in 2023.
Three states will raise their minimum wage to $15 or more joining California and the District of Columbia as well as a handful of municipalities that have already mandated the sought for level. That amount is more than twice the federal minimum wage of $7.25 per hour which has been in place since the summer of 2009.
Housing market beginning to warm as prices and mortgage rates cool
The red-hot housing market over the past couple years pushed up prices creating an affordability problem for would-be buyers. Coupled with rising mortgage rates as the Federal Reserve jacked borrowing costs drove many out of the market. However, the lower demand has reversed the upward trend in prices on average nationally.
The average cost of a home in the US has dropped by roughly 10% since the peak of $391,000 in June. Additionally, 30-year fixed mortgage rates have fallen for six straight weeks and is now 6.27%, cutting almost $300 from the typical homebuyers' monthly housing payment.
The combination has drawn some buyers back into the market who are able to take their time to negotiate a home purchase. While mortgage-purchase applications and the Homebuyer Demand Index produced by Redfin are both up, sales still haven't returned. The uptick is expected to begin after the holidays in mid-January and new listings aren't expected to recover until spring.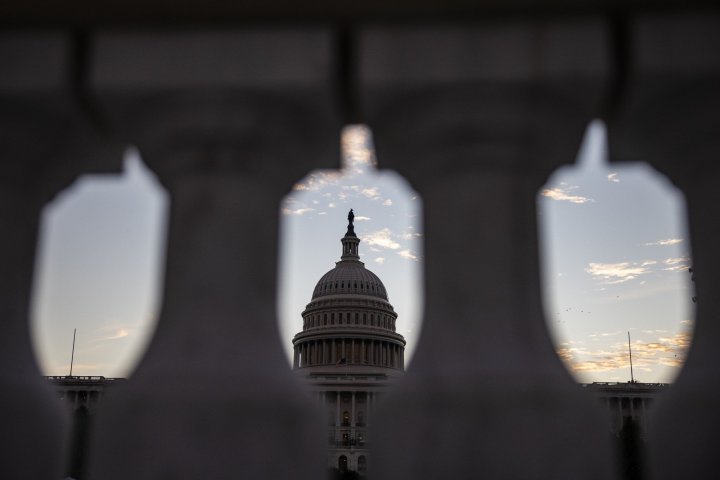 Government shutdown averted
Congress has passed a bill to fund the government through 30 September, averting a government shutdown. 
The major spending bill is over 4,000 pages long and includes financial funding for dozens of government programs, as well as a renewed aid package for Ukraine. 
While the bill does not include any funding for direct relief for the country's residents to combat inflation, it does change the Electoral Count Act. These alterations will make overturning federal election results more difficult by making the role of the Vice President in the certification process ceremonial. 
$1.7tr US spending bill makes changes to retirement savings. Here's a look…
The $1.7 trillion spending bill passed by Congress included changes to make it easier for Americans to save for retirement. Among the changes was legislation that will make it simpler for small employers to set up 401(k) plans and expands tax incentives. Automatic enrollment would begin from 2025 and workers would contribute up to ten percent of their earnings.
Workers earning less than $71,000 per a year would receive a 50 percent top up to $2,000 from the federal government.
Measures will be introduced to help Americans who need money taken out from the savings pot at short notice and also those with no savings. Provided one withdrawal a year of $1,000 was repaid there would be no penalty charges. In terms of emergency savings employers will be able to offer low-paid employees a savings account thast uses 3% of their salary, capped at $2,500.
Can the Veterans Affairs take away 100% permanent and total disability?
VA provides benefits for disability ratings that have been in force for a specified amount of time. Furthermore, your VA disability rating may become permanent in select instances. The VA may terminate or modify a veteran's disability rating based on particular findings unless these regulatory safeguards kick in or your ratings become permanent.
Therefore, the US Department of Veterans Affairs (VA) will need you to undergo an assessment to establish if your service-connected condition still requires a specific disability rating.
VA may lower a veteran's disability rating if it determines that their health has improved.
Mortgage rates plateau after another round of increases from the Fed
A year ago, the housing market was on fire, with far more buyers than affordable properties available. This led prices way up, and with historically low-interest rates for mortgages, many were able to lock in an affordable monthly payment. However, with the Federal Reserve moving its base rate up, the mortgage market has followed, pricing some would-be buyers out of the market, leading to a cooldown in many areas.
After the most recent rate hikes were announced just over a week ago, the rate for a thirty-year mortgage has continued to fall, but those for 15-year loans have been driven up slightly. We will continue to follow these trends as further announcements from the central bank come. 
What are the new Veterans Affairs disability rates for 2023?
Last month the Social Security Administration (SSA) announced an historic increase for beneficiaries, reflecting the damaging effects that covid-19 has had on the economy. Each year the SSA implements a cost-of-living adjustment (COLA), which is designed to increase benefits in line with inflation.
Starting in January 2023, an 8.7 percent increase will be applied to monthly payments surpassing last year's 5.9 percent bump.
How much you receive is based upon the severity of an injury as well as the number of dependents.
What are the big changes coming to 401k in 2023?
The most well known change to the 401k retirement plan at this stage is the increase of the contribtution limits.
The IRS will increase the contribution limit by $2,000 to $22,500 for 2023. Workers who are saving for retirement with 401(k), 403(b), most 457 plans, and the Thrift Savings Plan can contribute up to $22,500 to those plans in 2023.
However, it isn't just the contributions limits that are increasing. Plans inside the latest yearly spending bill for 2023 set to make a few key changes to the retirement plan that look set to make it easier for workers to save money for their future life.
Good morning and welcome to AS USA
Hello, Happy Christmas Eve, and welcome to the AS USA blog on financial news and measures being taken to alleviate the sting of inflation.
Congress averted a government shutdown passing a new spending bill that will fund the US government through September 2023. The $1.7tr package, which will head to President Biden's desk next week, will provide more funding to programs for childcare, healthcare and emergency disaster assistance.
Catch up with the latest updates on this and more to deal with inflation and what it means for you.