Winter storm and severe cold sweeps across US: Live updates – CNN
1 min ago
A "couple hundred" people likely still trapped in their cars in New York's Erie County, officials say
From CNN's Isa Kaufman-Geballe
A "couple hundred" people are probably still trapped in their vehicles in Erie County as a dangerous New York blizzard lashes the state, officials told CNN Saturday. 
First responders have been making efforts to rescue Erie County residents who became stranded in their cars last night and this morning while strong winds and blistering blizzard conditions impact the county, Erie County Executive Mark Poloncarz told CNN's Sarah Sidner Saturday. 
"It's probably somewhere in the vicinity of a couple hundred now, based on the numbers we've seen," Poloncarz told CNN. "That's down dramatically from 500 or more in the overnight hours." 
Poloncarz said earlier Saturday that up to two-thirds of emergency response vehicles in the hardest hit areas of the county were stuck, and discouraged residents from calling 911 unless their lives were in danger. 
"It's still a very dire situation," Poloncarz said Saturday afternoon. 
The county is facing challenges keeping residents from driving on roads, despite there being a ban in place, Poloncarz told CNN.
"There is a driving ban that's going on for the whole county, and there's a reason why, it's because conditions are still so dire that you can easily get stuck, and then you are taking resources off the road when you really need it," he said Saturday. 
Erie County first responders have been able to get individuals into warming centers, Poloncarz said, and the Buffalo airport said on Twitter that transit police, Buffalo Airport Fire and Airfield teams have rescued stranded motorists and provided shelter for roughly 60 people.
At least two people have died in Erie County as a result of emergency personnel being unable to reach homes during medical emergencies, CNN previously reported.
18 min ago
If you're driving for Christmas today, here's what to pack in your car to stay safe
From CNN's Kristen Rogers
If you're ever stranded in your car because of a bad winter storm, being prepared can be the difference between survival and serious harm or death.
For nearly two days back in January 2022, motorists were stuck on Interstate 95 in snowy and icy conditions in eastern Virginia after a storm left more than a foot of snow in the area.
And now at the end of 2022, we're looking at a "once-in-generation" bomb cyclone that could bring dangerous cold to much of the US.
Winter storms, bad weather and sloppy road conditions can be frightening and dangerous for travelers, and "are a factor in nearly half a million crashes and more than 2,000 road deaths every winter," according to AAA.
Because of these risks, "it's always important to be prepared versus get caught in a situation that turns dangerous or potentially deadly, especially in the winter season when temperatures can drop very, very cold in a short amount of time," said CNN meteorologist Jennifer Gray.
Read about what you should have in your car to be safe: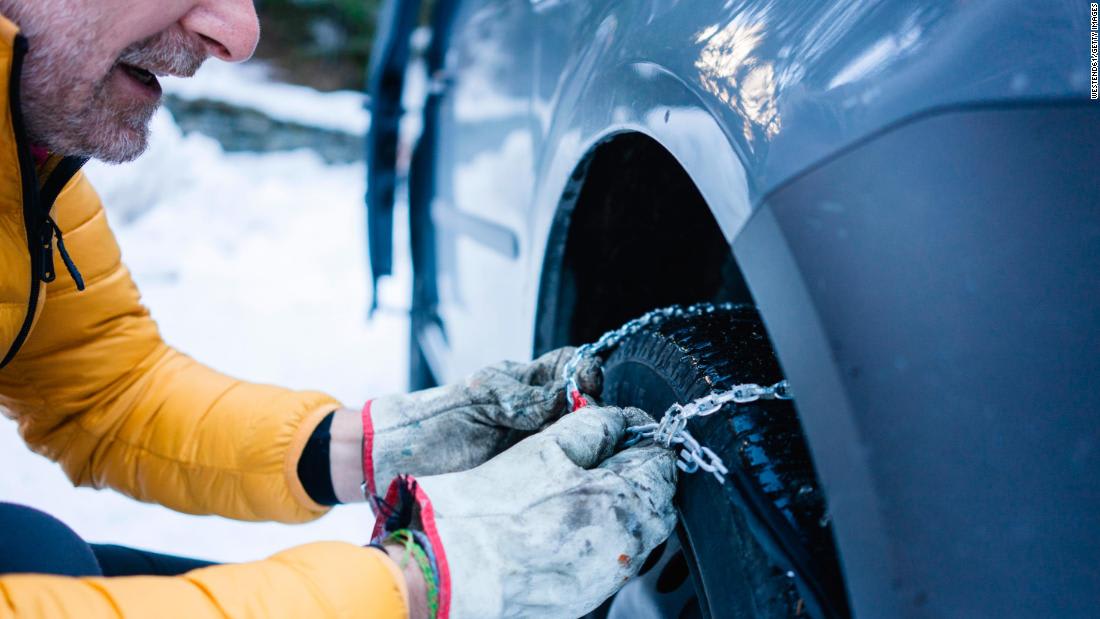 32 min ago
Electricity grid operator for 13 states asks public to conserve power and warns of possible rolling blackouts 
From Hannah Sarisohn
PJM Interconnection, the power grid operator for at least 13 states, asked its customers to conserve electricity due to the weather, according to a company statement.
The organization says it serves about 65 million people in all or parts of Delaware, Illinois, Indiana, Kentucky, Maryland, Michigan, New Jersey, North Carolina, Ohio, Pennsylvania, Tennessee, Virginia, West Virginia and the District of Columbia.   
"Conserving electricity as much as possible between the hours of 4 a.m. on December 24, 2022, and 10 a.m. on December 25, 2022, will help ensure adequate power supplies," PJM said.
PJM advised consumers to set thermostats lower than usual and postpone using major electric appliances such as stoves and dishwashers. 
"CPJM continues to carefully monitor the power supply conditions. It will do everything possible to keep power flowing in the region. If necessary, PJM may take additional steps, such as reducing voltage. PJM is coordinating efforts among generators, power suppliers and local utilities," according to the statement.   
In a video on Twitter, PJM Sr. Vice President of Operations Mike Bryson thanked customers for their ongoing conversation efforts. 
Bryson said the risk of rotating customer outages is "very real."  
37 min ago
It's freezing across the US — here are some ways you can help those facing homelessness in the cold
From CNN's Ashley Vaughan
A major winter storm will have more than 100 million people in the US under winter weather alerts this Christmas weekend.
But for those who call city streets home, heading inside is not always an option.
Here are some ways you can help:
Locate a shelter or warming center: From your smartphone you can connect someone desiring shelter with support. The Salvation Army claims to have a presence in nearly every zip code across the country. And every location can serve as a warming station. The organization is tailoring responses to fit the unique needs of each of its communities — including areas caught up in the current cold snap. People can locate their nearest Salvation Army center through the organization's online location finder.
Volunteer digitally: Texas-based non-profit Our Calling empowers everyone to digitally volunteer with one swipe on a smartphone. The organization features a public app that serves two purposes: helping those in need find nearby shelters and enabling users to facilitate the distribution of aid to those dwelling in street encampments.
Donate: Every organization featured in this piece made clear that financial donations are always needed. It is a powerful way people can help from miles away and make lasting impacts that meet needs both now and later, when things thaw out. You can donate to any of the organizations featured in this article by clicking this link.
34 min ago
More than 2,100 flights have been canceled so far Saturday. These airports are facing the most cancellations 
From CNN's Rebekah Riess
The extreme winter weather continues to impede holiday travel plans, as there are more than 2,100 flight cancellations nationwide on Saturday morning, according to the flight tracking site FlightAware.
More than 4,700 flights have also been delayed so far on Saturday. 
These airports were most affected by delays and cancellations:
Atlanta's Hartsfield-Jackson International Airport (ATL)
Detroit Metro Wayne County Airport (DTW)
Chicago O'Hare International Airport (ORD)
Minneapolis/St Paul International Airport (MSP)
Denver International Airport (DEN)
1 hr 14 min ago
Tennessee Titans delay home game by an hour as rolling blackouts continue in Nashville
From CNN's Jacob Lev
The Tennessee Titans' home game against the Houston Texans in Nashville has been delayed by an hour due to extreme weather and power outages in the area, the National Football League (NFL) announced on Saturday.
"This decision was made in partnership with the NFL, Office of Emergency Management, Nashville Electric Service and the Mayor's Office in an abundance of caution to ensure that the game would not negatively impact our community in any way," the NFL said in a statement.
"We are exploring every possibility to minimize non-essential power around the stadium. Gates are currently open and fans are welcome to enter. At all times, the operation of the game remained secondary to the well-being of our community and we can't thank the OEM and NES enough for their dedication to the safety of our neighbors," it added.
On Saturday morning, Metropolitan Nashville and Davidson County Mayor John Cooper called on the Titans to postpone their 1 p.m. ET game "in solidarity with our neighbors," amid ongoing rolling blackouts by the Tennessee Valley Authority (TVA).
The game will now kick off at 2 p.m. ET at Nissan Stadium in Nashville. 
1 hr 20 min ago
New York will ask federal government for declaration of emergency, governor says
From CNN's Celina Tebor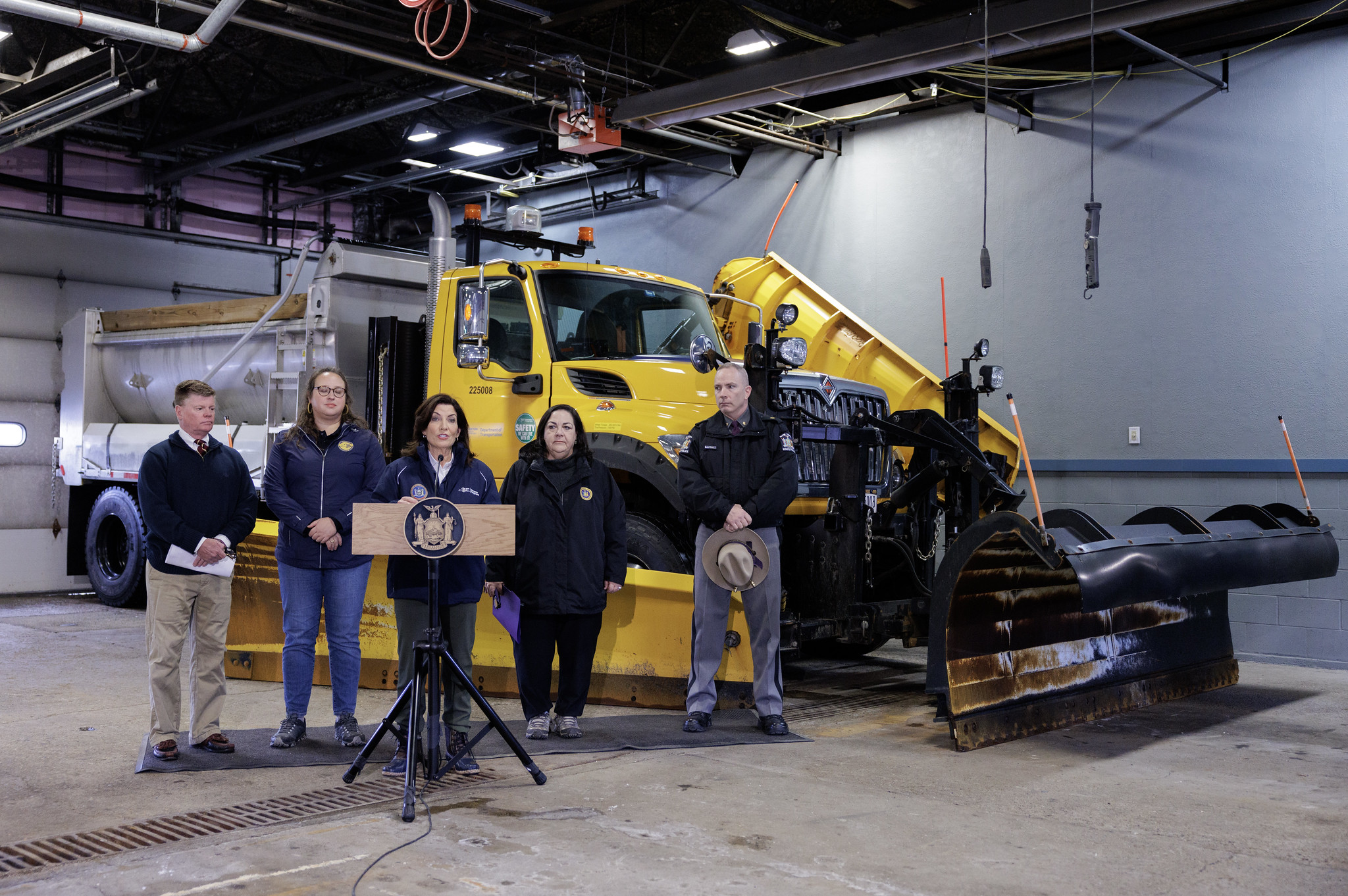 New York will ask the federal government for a declaration of emergency amidst a blistering winter storm that has killed at least two people in the state, Gov. Kathy Hochul said during a news conference Saturday.
"I'll be asking the federal government for a declaration of emergency that'll allow us to seek reimbursements for the extraordinary expenses of all the overtime and the fact that we brought in mutual aid from other parts of the state," Hochul told reporters Saturday during a news conference. "We've deployed individuals – the utility crews have come but also making sure that we have all the vehicles we need."
The governor declared a state of emergency across the state on Thursday ahead of the holiday storm.
At least two people in New York have died as a result of the winter storm, Erie County officials announced Saturday morning.
56 min ago
New York governor deploys National Guard to Erie County as Buffalo faces "life-threatening" conditions
New York Gov. Kathy Hochul said she deployed the National Guard to Erie County last night to assist with medical emergencies amid dangerous winter conditions in Buffalo and the region.
"The conditions, the blinding snow, the zero visibility, absolute whiteouts, it may go down as one of the worst in history," Hochul said in a news conference, as she noted that Buffalo is her hometown. "People are comparing this to the dreaded blizzard of '77 where Buffalo first got its reputation for having an unprecedented amount of snow."
"It is life-threatening, what is going on as we speak in Buffalo," Hochul added.
At least two people died Friday night in Erie County, in separate incidents, when emergency medical personnel could not get to their homes in time for medical emergencies, county officials said.
"The loss of two lives in Buffalo — storm related — because people were not able to get to medical attention, is again a crisis situation that unfolds before your eyes and you realize that life-saving ambulances and emergency medical personnel cannot get to people during a blizzard situation," Hochul.
Hochul said first responders have been attempting to rescue stranded motorists on highways, but that they too "are all getting stuck in the snow as well."
"In fact, almost every fire truck in the city of Buffalo is stranded. It is stuck in snow and we are just getting through releasing about 14 or so ambulances that were stuck as well." she said. "So you can imagine what's going on here. People who need help are being trapped because they cannot get the emergency response because it's unsafe to be out there."
The Buffalo airport will remain closed until at least 11 a.m. local time on Monday, Hochul said. The airport first announced it had closed due to "hazardous weather conditions" Friday afternoon.
Hochul said search and rescue operations will continue nonetheless throughout the region.
The governor said about 73,000 homes across the state are still without power, including 33,000 in Erie County. "That seems to be the epicenter of this storm that doesn't seem to be moving on," Hochul said.  
The governor said the state will keep warming centers open and she encouraged people to stay home.
CNN's Celina Tebor contributed reporting to this post.
1 hr 53 min ago
Just over 1.4 million customers are without power nationwide due to severe winter weather
From CNN's Joe Sutton
Just over 1.4 million customers across the United States are still without power amid the winter weather and frigid temperatures. 
As of 11:30 a.m. ET on Saturday, 1,426,366 customers are in the dark, according to PowerOutage.US. 
Here is a breakdown by region:
Southeast: 533,608
New England: 358,714
South: 282,482
Mid-Atlantic: 204,157
Great Lakes: 23,932
Pacific: 14,680
Territories: 6,881
Midwest: 1,127
Mountain: 785